To our Partners and Supporters,
Greetings in the Precious Name  of our Lord and Savior Jesus Christ.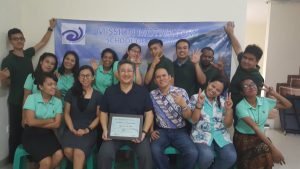 Without prayers and supports , the Mission Motivators-School of Missions Jakarta could not be operated. I am thankful to God for His great daily faithfulness  for providing our daily needs and institutions needs through the people of God who has a heart for the missions. I believe that the Mission Motivators trainees will  be a great leader in expanding the Kingdom of God as a fulfillment of the Great Commission .
In behalf of the  training team of Mission Motivators-School of Missions Jakarta I want to extend my gratitude and thanksgiving  to all who helped us, supported us morally, spiritually and financially. I believe that what  you've planted will be harvested in a right time. "He who sows generously will also reap generously" (2Cor. 9:6)
Expect your great harvest, God bless you all!
Jerson Labadia
Training Director, SOM Jakarta
{ 0 comments }